ART 321 INVERTER Jaguar E 200 MD Dual Torch Single Pulse Aluminum Mig welder
• Single Pulse. The software directs the amperage of the welder to pulse up and down providing a cooler weld which is turn allows for an aluminum weld similar to a TIG weld.
• Pre-Programed synergic curves. This welder has a menu of 64 synergic programs. Choose a metal type on the menu. The menu will indicate which wire to use, which gas to use and which program number. Input that program number. The welder will automatically use the correct amperage, wire feed, pulse, etc. No guess work.
• Pulse feature vital for welding for welding aluminum.
• Dual wire feed motors = Dual torch capable.
• 64 Pre-set Synergic welding programs for easy set up.
• LCD Touch Screen Display.
• Mig brazing for galvanized steel.
• 220 volt single-phase 50/60 Hz.
• Duty cycle 20% at 200 amps, 100% at 120 amps.
• Output power 20 – 200Amps .
• Weight 150lbs.
• Size: 23" x 369".
• Inverter Power Source.
• Use with the optional Push Pull gun ART: 2003 or Heavy Duty mig gun ART: 1242.
• Mounted on heavy duty base with casters.
• Stepless regulation.
• Especially suited for aluminum welding.
• Feeds all solid wires with diameter of 0.6, 0.8 and 1.0.
• Especially suited for aluminum welding.
• Accepted Wire size:
0.6/0.8/0.9/1.0 Fe-Al.
0.8/0.9 Inox-CuSi3.
0.9 Flux cored.
Max Spool size 300mm/15 Kg 12" / 33 lbs.
Art-1242 Heavy duty torch for 302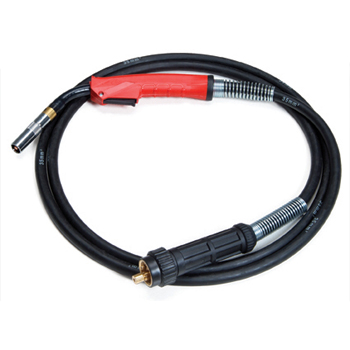 Art-2003 push pull torch for 302