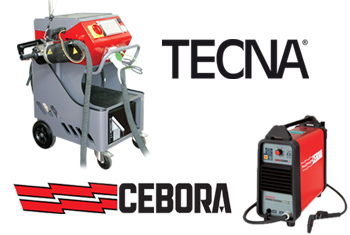 Our core business for 28 years is metal cutting and joining equipment. Cebotech does not sell benches, spray booths or compressors. If you need a solutions for a welding problem, come talk to us. We'll be glad help.



Cebotech specializes in welding and cutting equipment.
Cebotech has been supplying the collision repair industry since 1985.
Cebotech has represented CEBORA welders and plasma cutters since 1985, and TECNA resistance spot welders since 1989.
Cebotech is the US interface between CEBORA, TECNA and the OEMs ( Audi, BMW, Chrysler, Dodge, Fiat, Ford, GM, Hyundai, Infinity, Jeep, Lexus, Mazda, Mercedes-Benz, Mini, Mitsubishi, Nissan, Porsche, RAM, Subaru, Suzuki, Toyota, Volkswagen, Volvo and more).
Cebotech stocks a range of welding and cutting equipment in our Florida warehouses for quick delivery.
Cebotech maintains a complete and extensive inventory of all consumables.
Cebotech maintain spare parts for both CEBORA and TECNA equipment.
Cebotech is a factory trained in service and technical support.
Cebotech specializes in cutting, welding and other joining processes.